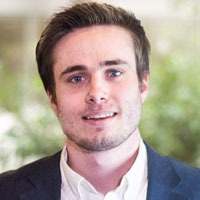 Taylor Johnson
Director of Media & Marketing
One Trans Am Plaza Drive, Suite 230. Oakbrook Terrace, IL 60181.
"Media is a huge passion of mine. I could talk videos and websites all day. At Harvest, I get to put that energy to work. Part of what I do is submerge people in an experience that educates and invites them to join us. I'm dedicate to providing those we work with the means of communicating helpful solutions to your goals."
Brian Park Associate Investment AdvisorMy LinksBrian was in full-time ministry doing financial counseling with people within his church for 25 years.  He believes a person's financial health is as important as all the other areas of their life.  To be a good steward...
From websites, to videos, to graphics, Taylor helps produce them all. His primary responsibility is to support the business and all of it's affiliates/associates with their media needs. Something you will notice about him, is his innovative and annalytical nature. This comes from his unique upbringing where he learned to be a self-teacher and DIY-er.
On a daily basis, Taylor might be working in any one of three different categories: Video Production, Website Design & Development, and Graphic Design. He works hard to fullfil not only our internal needs, but also the needs of our representatives and affiliates. On a given day he might utilize upwards of 15 different programs to accomplish his tasks. He loves working with our advisors to write, shoot, edit and repeat; or even a good photoshop challenge! His tasks boil down to two main roles which he likes to describe as Producer and Director.
A Director is responsible for ideas, vision, and sense for choosing a direction. Meanwhile a Producer focuses on making sure things get done. In Taylor's case, this is in the litteral sense. This means organizing the projects and ensuring proper time and energy is allocated. You can see where his innovative and annalytical nature comes in! These are qualites he is familiar with from what he attributes to upbringing.
Unlike many others, Taylor opted to not pursue a degree. Instead, he focused his efforts on opportunities layed out in front of him. He sees education differently. He often says "Learn something you have a high level of interest in, but then find a way to apply it immediatly. It's not good enough to learn something and then let it decay. You have to focus on things you can get passionate about and be active in." This derrives from his upbringing in the "homeschool" life. He participated in an environment where he was consistently challenge to teach himself.
In his spare time he likes to be involved in many of his other interests. Taylor's primary concern in life is living in a way that is Holy and Pleasing to the Lord. As such, you'll often find him meeting with various small groups during the week, or in a coffee shop with a good theology book. Of course, he also attends his church faithfully at Redeemer Fellowship of St. Charles. Aside from that, he loves to spend time with friends and family. A classic Saturday night looks like friends, good food, and games such as Splendor & Settlers of Catan.