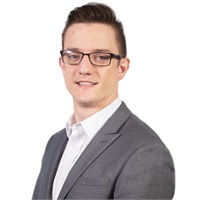 Luke Baumgarten
Director of Business Development
Associate Investment Adviser
One Trans Am Plaza Drive, Suite 230. Oakbrook Terrace, IL 60181.
"I love helping individuals find financial direction to accomplishe their goals. I know the kind of dedication required to achieve long term financial plans, and I'm ready to walk alongside you."
The definition of retirement, "A point in a persons life, where they have the luxury of deciding how to spend their day." – Don Barden
"As an Investment Advisor, acting in your best interest is not my job, but my duty!"
Luke attended Liberty University in Lynchburg, VA studying Business Finance with a specialization in Financial Planning and was a student athelete on the Men's Division 1 club ice hockey team.
In 2014, Luke started his career in the Financial Services Industry as an Investment Adviser Representative with Harvest Investment Services, LLC. a Registered Investment advisory firm.
Luke has become an essential part of the Harvest team, possessing character traits that have helped him relate and build relationships with both clients, advisors and other business professionals. As a Fiduciary Investment Advisor Luke is building and growing his practice with Harvest Investment Services in such a way that his clients have become some of his greatest advocates.
Luke's process is to first work on the diagnoses of the clients needs through the creation of a Comprehensive Financial Plan and by working with the other trusted advisors (CPA, Attorney, etc.). Through strategic planning, one will be able to clearly identify their personal financial life goals and objectives. Using the plan we can determine the appropriate course of action necessary to achieve those stated financial goals. The Plan should also address what may be needed to protect your families future and financial goals as life events happens, that without proper planning can derail the plan. The plan should have a series of recommendations and a timetable for the implementation process. Then finally, the plan should be monitored along the way to make sure that things are staying on track towards the achievement of your specific financial life goals.
"Serving business owners is a true passion of mine and being able to help them navigate and equip them with the necessary tools for success!"
One of Luke's personal goals is to maintain the mindset of a student and to continually attain fresh knowledge that will assist his clients in achieving their financial goals and objectives.
"Harvest Investment Services has shown me the importance of the comprehensive financial plan and the need to continually educate people on strategies to achieve their financial life goals."
Luke and his wife Nikki have two daughters and a son, Alexa and Andersyn (Andi) and Brodie, they live in Wheaton, IL. Outside of work, Luke looks to be of service to family, friends and the community around him. Luke and his family are involved in the local church community and support multiple ministries including Hockey Ministries International. Having played Ice hockey for over 20 years he knows about commitment, hard work and trust.
"I personally look forward to starting a conversation with you to identify ways that I can serve you to further the kingdom."